A partnership designed
with your health in mind
---
The Fire and Police Retiree Health and Wellness Fund partners with Health by Design. Members of The Fund and their families have access to 4 specialized wellness centers staffed by Health by Design professionals. Fair Oaks Wellness Center, Westover Hills Wellness Center, Schertz Wellness Center & City Base Wellness Center are all open & welcome both new and existing patients.
Health by Design offers patients a customized health care experience that focuses on the mind, body and soul. This is called Well+Being™ Care. In every life Health by Design touches, they seek to produce a healthy body, sound mind, and hope-filled spirit that inspires the patient to live a healthier, more rewarding life.
This transformative health care experience includes more time with doctor's and staff, an individualized health plan tailored to each patient's needs, an executive Well+Being Exam™ to assess overall well-being, and more.
Health by Design wellness centers offer primary and specialty care including Care Navigation, Diabetes Care, Endocrinology, Health and Nutritional Coaching, Integrated Behavioral Health Services, and Physical Therapy. All 4 wellness centers are available to members of The Fund and their families free of charge.
---
PRIMARY CARE
Exclusive, convenient access to whole-person medical care focused on prevention and wellness.
Services include:
Annual Well+Being exams (see description below) and physical exams
—Include well-woman exams
Management of chronic diseases, such as diabetes, high blood pressure, high cholesterol, and other conditions
—Coordination of specialty care if needed
Sick care for minor illnesses, such as sinus infections, digestive issues, coughs, and colds
Care of minor injuries, sprains, and strains
Blood pressure and glucose checks
Comprehensive laboratory services, to include blood work, urine testing, flu, and strep throat testing
Certain immunizations such as flu and pneumonia
Administration of allergy injections or therapeutic injections prescribed by an outside doctor and reviewed by an HBD physician
Prescription refills of medications prescribed by a HBD physician
Evaluation of skin conditions
Ear wax removal
A Well+Being Exam™ is an annual health assessment provided free to all members of The Fund and their dependents. This assessment and its follow-up appointment focus on prevention, early detection and healthy living. Through our Well+Being Exam™ members of The Fund are encouraged and inspired to live healthier, happier and more rewarding lives.
Your Well+Being Exam™ includes:
Biometric Assessment
—Height, weight, blood pressure, pulse, waist circumference and BMI
Body Composition Scan
—Individualized information on lean mass and body fat
Fall Risk Assessment
Depression and Anxiety Screenings
Epworth Sleepiness Scale (Sleep Apnea screening)
Comprehensive Lab Work
—Extensive cardiac labs for patients age 45 and up
Follow-up Examination, Consultation and Action Planning with your Physician
CIMT Scan *
—A non-invasive ultrasound to detect vascular disease and cardiovascular risk before symptoms occur
Bone Density Scan *
Hearing Screenings *
      * When medically appropriate
Well+Being Exams™ will now be facilitated at Westover Hills, Fair Oaks and the new Schertz Parkway wellness center locations. Follow up appointments can be provided at any of our wellness centers.
Patient action plans may include physical therapy, counseling services and/or virtual fitness classes. Members of The Fund, and their dependents, may access these services at no charge.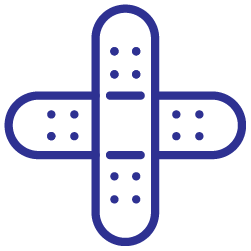 Endocrine diseases such as diabetes can often be difficult to navigate. We offer no-cost specialized care for patients with diabetes or other endocrine disorders with a physician board certified in Internal Medicine, Endocrinology, Diabetes and Metabolism, and Lifestyle Medicine.
Endocrinology services include:

Thorough, endocrinology-focused review of your medical history with whole-person awareness
Added expertise from a board-certified specialist
Collaboration between specialist and your primary care physician
Specialized review and management of complicated endocrine diagnoses including diabetes, thyroid diseases, metabolic disorders and osteoporosis, as well as many other hormone-related issues
Hands-on education when starting new medications or medical technology
In-person and virtual consultations
By adding a specialist to their team, members of The Fund and their families know they receive the best care available. For information about Endocrinology services or a referral, speak to your primary care physician.
Hands-on care to restore and improve physical function, reduce pain, increase mobility, and maintain your independent lifestyle. This therapy often focuses on strength, range of motion, balance, and coordination.
Physical Therapy services include:
Professional diagnosis and treatment plan developed between The Fund member, physical therapist and primary care physician
Visits with a board certified, on-site physical therapist tailored to meet the unique needs of each member
Care for members with injuries
Pain management
Help in reaching fitness goals
Treatment that aims to lower the risk of fall or injury, decrease pain from chronic conditions, reduce need for prescription drugs, and maintain an independent lifestyle
Physical therapy is available free of charge for members of The Fund and their families. For information about physical therapy or a referral, speak to your primary care physician.
Your wellness centers offer a collaborative care model that combines primary care with behavioral and mental health services.
Collaborative care offers patients a Care Manager trained in various types of behavioral and mental health conditions. The Care Manager will work with the primary care physician as well as a psychiatric consultant to develop a personalized plan including medication management.
These services are available to The Fund members and their families at no cost.
Behavioral Health services include:
Assessment and intake conducted by Care Manager
Individual counseling services for mental, behavioral and emotional challenges including depression, anxiety, grief, and trauma
Diagnosis and recommendations from consulting psychiatrist
Medication management
Personalized clinical goals
HEALTH & NUTRITIONAL COACHING
For Members of The Fund and their families who have issues with obesity, pre-diabetes, high blood pressure or high cholesterol, or who are simply motivated to improve their diet and lifestyle, health and nutritional coaching is available at no extra cost.
This 36-week program is overseen by a registered nurse who meets with individual patients for 30 minutes 1 to 2 times each week. The program is specialized to each individual and tailored to meet specific goals. Health and Nutritional coaching also includes:
Biometric Assessment – height, weight, blood pressure, pulse, waist circumference, BMI
Initial and follow up lab work
Guidance on keeping a food record and individual review
Nutritional education and food labs
Exercise guidance
Accountability and support with the option to expand past program completion
Compassionate and personalized support through the health journey for patients and caregivers under the direction of an RN.
Services include:
Help arranging appointments
Screening for distress
Referrals to support resources
Coordination of care between PCP and Specialists
Communication with Family and Care Givers
Facilitating follow-up care
Reducing service duplication
Providing healthy living education and support
Improving health outcomes and quality of life
Your Care Team can be reached Monday-Friday, 8am – 5pm at (210) 202-9384.
When you can't make it for a knee-to-knee visit, your care team is available for virtual visits. Health by Design team members staff our Virtual Care service, meaning in most cases, you will connect with the same doctors and nurses you know from your wellness center.
Real-time virtual appointments through your smart phone
Secure messaging
Prescription refill requests
And more
COOK WELL, BE WELL CLASSES
Come cook with us! Our culinary health education program uses evidence-based curricula, tools, and resources to teach basic nutrition and practical cooking skills to drive healthier eating for a wide variety of audiences. The classes offer guidance to help create a healthier diet that includes nutrient-dense foods from all major food groups, including lean proteins, whole grains healthier fat, fruits, and vegetable of all colors.
Our Curriculum Guide addresses Specific Education on:
Diabetes Management
Anti-Inflammatory Eating
Healthy Eating For People Over 50
Diet and Brain Health
Register For Upcoming Classes
Get moving with our Stretch & Flex classes taught by an instructor skilled in techniques for mature adults and those with health-related limitations. Participants are guided through gentle stretches and core strengthening exercises while focusing on proper breathing techniques. Classes are offered in-person and virtually.
Register For Upcoming Classes
Register For Upcoming Classes
WELLNESS CENTER LOCATIONS
---
WESTOVER HILLS
WELLNESS CENTER
5230 Rogers Road, Building 4
San Antonio, TX 78251
(210) 809-6760
Hours of Operation:
Monday – Friday
8:00 am – 12:00 pm and
1:00 pm to 5:00 pm.
PHYSICIANS
LOCATION SERVICES
Primary Care
Well+Being Exam™
Physical Therapy
Licensed Professional Counselors
Health & Nutritional Coaching (HNC)
Care Navigation
Cook Well, Be Well Classes
Exercise Classes
Virtual Care
Endocrinology
Immunizations
FAIR OAKS
WELLNESS CENTER
7926 Calle Rialto
San Antonio, TX 78257
(210) 492-1333
Hours of Operation:
Monday – Friday
8:00 am – 12:00 pm and
1:00 pm to 5:00 pm
LOCATION SERVICES
Primary Care
Well+Being Exam™
(Follow Up Consultation Only)
Health & Nutritional Coaching (HNC)
Care Navigation
Virtual Care
Immunizations
CITY BASE
WELLNESS CENTER
7003 S. New Braunfels Ave,
Suite 130
San Antonio, TX 78223
(210) 465-9592
Hours of Operation:
Monday – Friday
8:00 am – 12:00 pm and
1:00 pm to 5:00 pm
PHYSICIANS
LOCATION SERVICES
Primary Care
Well+Being Exam™
(Follow Up Consultation Only)
Health & Nutritional Coaching (HNC)
Care Navigation
Virtual Care
Immunizations
NOW OPEN - ACCEPTING NEW PATIENTS
5009 Schertz Parkway
Schertz, TX 78154
(210) 866-3720

Hours of Operation:
Monday – Friday
8:00 am – 12:00 pm and
1:00 pm to 5:00 pm
PHYSICIANS
LOCATION SERVICES
Primary Care
Well+Being Exam™
Endocrinology
Physical Therapy
Behavioral Health
Health & Nutritional Coaching (HNC)
Care Navigation
Cook Well, Be Well Classes
Exercise Classes
Virtual Care
Immunizations